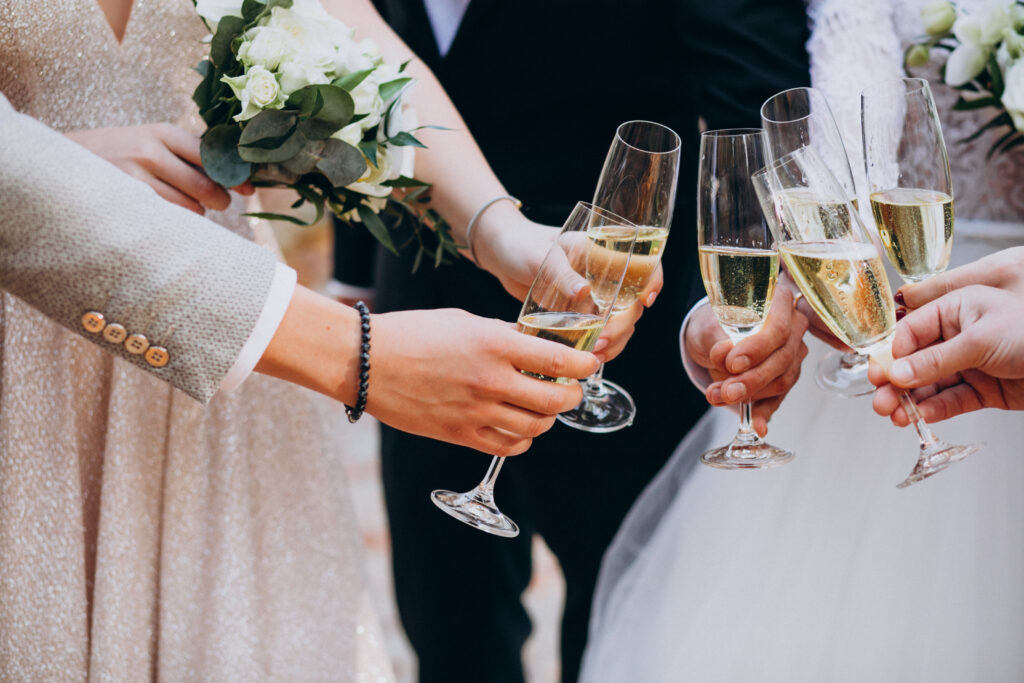 When planning your engagement party, you may wonder how to think about your guest list. How many guests should you invite — and more importantly, who should you invite? Then, there are the other "small" questions, like should you send engagement party invitations and how should your engagement party guest list differ from that of your wedding day?
Before we dive in, let's first answer two basic (but important) questions: What is an engagement party? And what is its purpose?
"An engagement party is to announce, celebrate, and officialize the happy couple's engagement," says Julie Blais Comeau, Chief Etiquette Officer at Etiquette Julie. "Its primary purpose is for the wedding guests to get to know each other and most importantly, the two families."
Here, we get advice from several engagement party etiquette experts, who spill the tea on what to do — and what not to do — when it comes to your engagement celebration.
Who Do You Invite to Your Engagement Party?
Now that you're engaged, it's time to start planning all of the fun celebrations that come along with this big moment in your life.
If you decide to host an engagement party, there is some good news. According to Diane Gottsman, an international etiquette expert and founder of the Protocol School of Texas, "You can invite close friends, family members, neighbors, colleagues — basically whomever you would like."
However, when drafting your guest list, it's important to remember: "Whoever is on the guest list to the engagement party must also make the guest list of the wedding," Gottsman says.
For this reason, Blais Comeau recommends that you "think backward." This means, start by considering who you'd like to have at your nuptials. From there, choose the attendees for your engagement party.
Anne Chertoff, chief operating officer at Beaumont Etiquette, agrees with this line of thinking — but adds that there may be ways to work around this rule.
"Couples can have multiple engagement parties — one with family, one with friends," Chertoff says. "Keep in mind that if someone is invited to a more formal party, they will expect an invitation to the wedding. If you have a very casual celebration with friends at a local bar, you can feel less pressure to invite all of them to the wedding."
Who Should You Not Invite?
There are a lot of difficult choices that come into play when narrowing down your guest list for any wedding festivity. Whether to invite colleagues, exes and children to your engagement party are questions you may have to mull over.
"Who you invite is a personal decision and there should be a conversation between the two people getting married," Gottsman says. "There should be agreement on who is invited to the wedding celebrations, from the engagement party to the reception."
When considering inviting ex-partners, Gottsman explains: "Some people will invite their exes because they are still very close and share children — while others wouldn't dream of having an ex from your past attend. While it's not the standard, it's not a breach of protocol either."
Another personal choice is whether to invite work friends. Jennifer Tolento, founder and wedding planner at Jennifer Tolento Events, warns against it. "Depending on the length of your engagement, your work situation can change before the wedding date and you may not still be friendly with some of these people," Tolento says.
And should you invite children to your engagement party? Tolento says it's also "a personal decision if you want to invite a couple — as a family or not. Just be consistent across the board and either invite all or none of them."
As a rule of thumb, "if it causes angst or drama, skip the invitation," Gottsman says. "The guest list should be composed by the couple together and there should be agreement."
How Many People Should You Invite?
At the engagement party, couples often decide to invite their wedding party, the bride's parents, groom's parents, select family members, and other near and dear loved ones. But is there a limit to how many guests should be in attendance?
"An engagement party can be as intimate or as grand as the engaged couple wants it to be," Chertoff says. "Traditionally, the guest list will include immediate and some extended family members of the couple and their friends."
Tolento agrees, saying: "There is no typical day when it comes to celebrations! That's the great thing about celebrating a couple coming together because they bring their own unique ideas, traditions — and spin them into what works for them."
Party sizes can vary. For reference, Tolento says she's "helped plan everything from a traditional 150-person engagement party, to a 50-person boozy brunch, to an elegant intimate backyard dinner for 20."
If you aren't sure about where to draw the line, Chertoff recommends keeping your budget in mind. "Don't over-invite people because you will then have to extend an invitation to the wedding to them."
Moral of the story? Invite as many guests as you prefer, but be sure to keep your budget and wedding-day guest list in mind when deciding.
Should You Send Invitations for Your Engagement Party?
Considering sending engagement party invites? Here is what experts say about whether to send them, including different ways to go about it. "An invitation can be delivered by mail, email, or word-of-mouth," Gottsman says. "The invitation will set the tone for the party, so if it's going to be a more formal affair at a restaurant or country club, a more formal invitation would be used."
For more casual events, "you can send emailed invitations, such as Paperless Post or Evite," Chertoff says.
No matter what you decide, "make sure that all your guests will receive it and are able to [RSVP] in the mode of communication that you choose," Blais Comeau says. "Think of your grandparents and their capacities in dealing with technology."
Pro tip? If you choose to send "snail mail" invites for your engagement party, "this is also a great time to collect guest addresses for the wedding invitation later on," Tolento says.
Engagement Party vs. Wedding Guest Lists
In the midst of all the wedding planning, you may stop and wonder "Wait, how should my engagement party guest list differ from that of my actual wedding?"
As we mentioned before, the golden rule is that those invited to the engagement party should almost always be invited to the wedding. But there are other considerations to take into account.
For example, with the engagement party, Gottsman says this event is often a smaller occasion with less people invited. "[It] may be a more personal type of celebration, rather than a huge event," Gottsman says.
And remember: "Extended friends, work colleagues and friends of your parents don't need to be invited to the engagement party in order to get an invitation to the wedding," Tolento says.
So, it's most common to keep your pre-wedding party more intimate — with your closest friends and family in attendance. And for your big day, you can grow the list to include a wider range of friends, family, and relatives.
---
Looking for the perfect Milwaukee wedding venue at an affordable price, contact The Mitch.
---
This blog article was originally published and written on TheKnot.
Original link can be found here: https://www.theknot.com/content/whos-invited-to-engagement-party